Mencoret.com – A key aspect of master bathroom vanity lighting is the placement of the light fixtures. Placement should depend on personal preference. Ideally, single light fixtures should be placed above the mirror at a third of the width of the vanity. Horizontal styles such as vanity light bars can be placed even further away from the mirror, but they should be no longer than three-quarters of its width.
Setting up the Lighting on the Dressing Table
Lighting over the vanity is an important part of your morning routine, so choose fixtures that cast light downward. Wall sconces can be installed on either side of the mirror, but they should be at least 60 inches off the floor. To maximize light diffusion, use glass or frosted bulbs. Sconces can also be placed perpendicular to the sink for maximum effect.
Vanity tube lights are another option. These fixtures have a sleek design and are similar to bar-style fixtures. They provide ambient lighting as well as task lighting. Alternatively, you can install a large pendant in the centralized area of the bathroom ceiling. This style can add dramatic ambiance and ambient lighting to the room.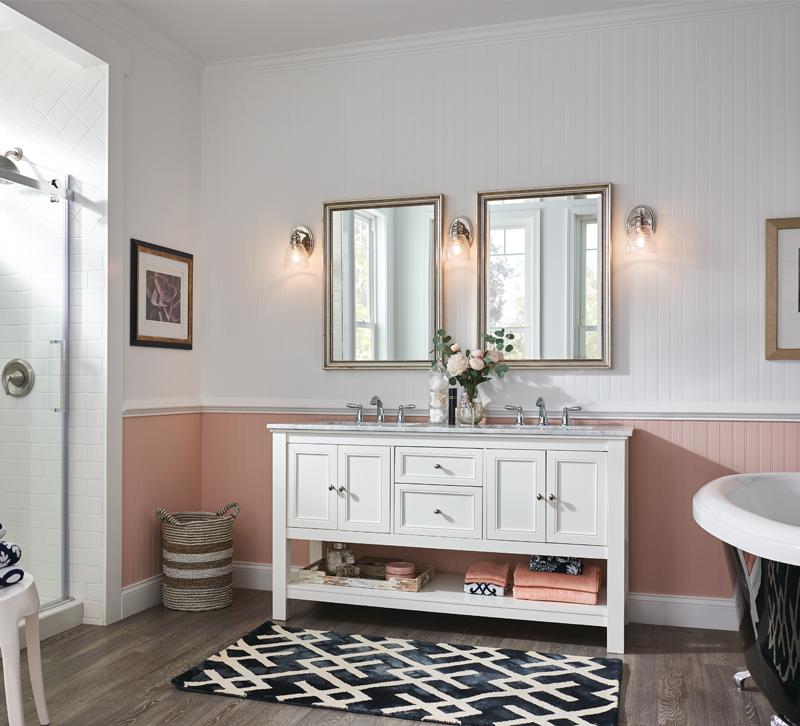 Vanity lighting should be part of a complete lighting scheme. The best choices will not only give adequate illumination for personal care tasks but will also tie in the decor of the room. Choose fixtures with interesting shapes and styles. For example, a row of exposed bulbs could invoke a Broadway scene, while a sleek metallic wall sconce could create a modernist feel. Vanity lighting can be a focal point in the master bathroom.
Using Farmhouse-Inspired Lighting
Modern styles can also be complemented by rustic elements. A rustic-themed bathroom can use farmhouse-inspired lighting. For example, Tiffany Farha used antique brass wall lamps with pitch-black shades in her bathroom. A simple pendant over the vanity can provide soft illumination. This design is an example of how you can mix vintage and contemporary styles to suit your style.
Toekick lighting is an excellent option for adding ambiance to the bathroom at night. These lights can be installed under the countertops or under the base cabinets. They can provide a halo-like glow around the mirror. But it is not a replacement for functional task lighting. You can add accent lighting to highlight the most flattering details in your bathroom. A small lamp can also be placed anywhere you want to create a warm atmosphere.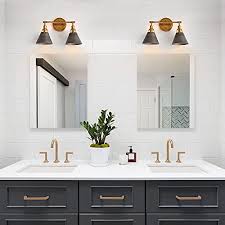 You can also choose to update your bathroom's existing fixtures. By coordinating your lighting with the color and finish of your bathroom's fixtures, you can make the whole area look harmonious. If you want to evoke the feel of Old World craftsmanship, choose double candle holders or other traditional styles. Alternatively, go for a modern design by incorporating gold or marble in your bathroom.
Adding Extra Light To The Double Dresser
Double vanities also require additional lighting. For example, if your vanity is situated in a nook, you'll want at least one light above each sink. In this case, you can place a globe-shaped sconce above each sink to provide light for two sinks as well as a makeup vanity.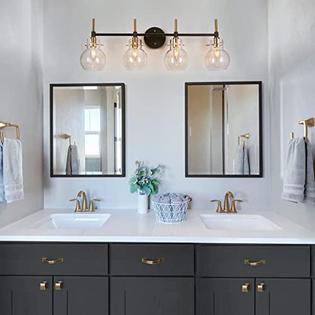 You can also consider using LED bulbs. These bulbs are energy-efficient and long-lasting. While they do not give off an abundant amount of light, they do give a warmer glow than incandescent bulbs. But make sure to carefully consider the lighting type you select. You'll want to be able to see yourself well enough to do your daily tasks. We really appreciate and welcome guest post submissions from you.