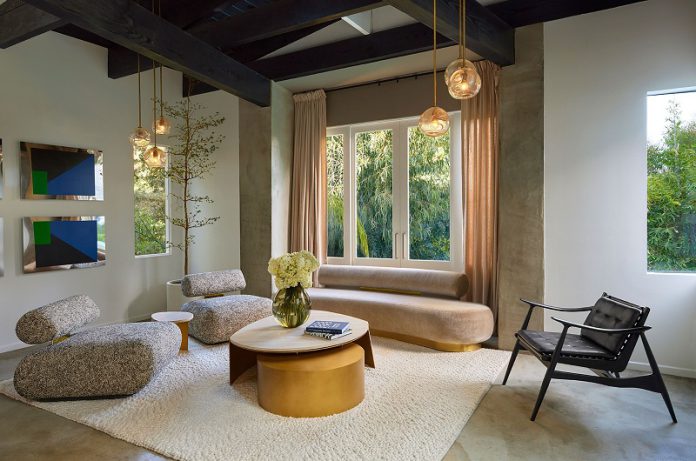 Mencoret.com – Modern living room ideas emphasize clean lines and functional storage. A sleek built-in shelving unit adds interest to a living area while keeping the space feeling open and uncluttered.
Dramatic and Large Fixture Above the Living Room
Sculptural and decorative lighting, like a natural-reeded shade chandelier or wall sconce, dresses up living spaces with both style and function. The dramatic, oversized fixture above this living room from Leanne Ford Interiors invites curiosity and starts conversations. Sculptural seating like this tufted upholstered bench and wood-base chair can elevate modern decor. The geometric shapes and clean lines of the chairs and sofa are visually balanced by round furniture accents like a glass coffee table and globe pendant light.
Creating a focal wall with picture ledges is a quick way to modernize a living room. Layer framed color photos and other decorative pieces in varying sizes to keep the arrangement interesting. Empty spaces can be as important as filled ones when it comes to modern living rooms. Use negative space to call attention to the furniture and decor items you love while promoting a more open, uncluttered look.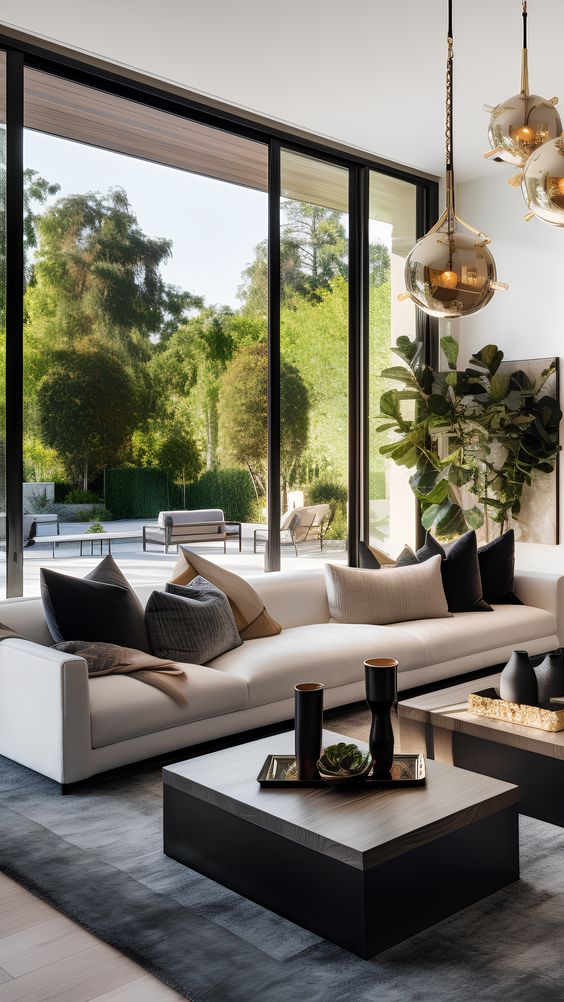 Custom built-ins can elevate a modern living room while offering lots of storage. Whether they serve as a stylish bookshelf, a mudroom command center or a place to display your little one's stuffed animals they add personality and function. Paint a living room's built-ins the same moody color as the rest of the space to make them blend seamlessly and add a sense of unity. This beautiful living room from Laquita Tate Interior Styling and Designs features a large oversized sectional, natural accents, and a cozy fireplace surrounded by simple furniture. The result is a space that feels current and timeless. Sculptural black accents, like the round framed preserved moss wall hanging, complete the look.
Adds a Luxurious Impression to Any Living Room
Floor-to-ceiling windows blur the line between indoors and out, providing stunning views and abundant natural light. Often called "window walls," these large windows typically feature fewer framing and mullions than traditional window styles, which contributes to an uninterrupted sightline. They may be fixed picture windows or include operable windows and doors, depending on your home design goals and desired sight lines. Whether they showcase a picturesque city skyline or a tranquil natural landscape, these panoramic windows add a sense of luxury to any living room. They also allow for a wealth of natural light, which helps reduce the need for artificial lighting during the day.
A few carefully selected pieces of wall art or decor can create a focal point that helps define your modern style. Leaving negative space around certain items, like the oversized metallic pendant light hanging over this seating area from Leanne Ford Interiors, calls attention to the piece and promotes an open feel. Textures also play a key role in modern design, from the faux cowhide rug and tufted ottoman coffee table in this room to the striped center table and woven pampas grass accent chair. This design from Alvin Wayne blends a variety of textures to add interest to the clean-lined room.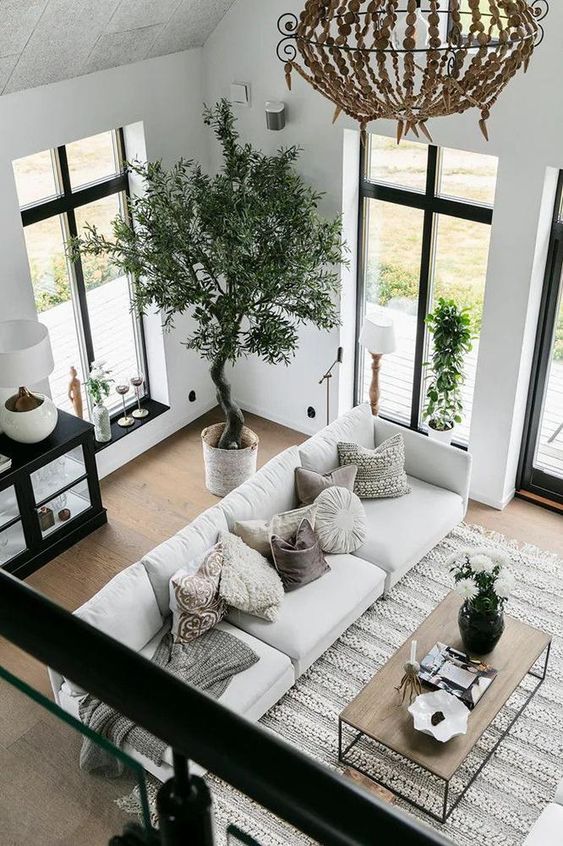 For an easy way to incorporate wall decor into your modern living room, use picture ledges to display a mixture of framed photos and artwork. A mirrored wall brings in light while looking sophisticated. Adding shelving to a modern living room design is an easy way to add more storage while displaying decorative items. Keep in mind, though, that too much shelving can detract from the clean look of modern decor.
Use a Simple Design that Feels Sleek and Neat
If you want to include shelves in your contemporary living room, limit their number and use simple designs. This helps the spaces feel sleek and uncluttered. To prevent a modern living room from feeling stark and cold, repeat colors throughout the room using different shapes, textures, and decorative elements. This space focuses on blues and browns to create a warm, welcoming look. A large area rug and eye-catching wall hanging add color and texture.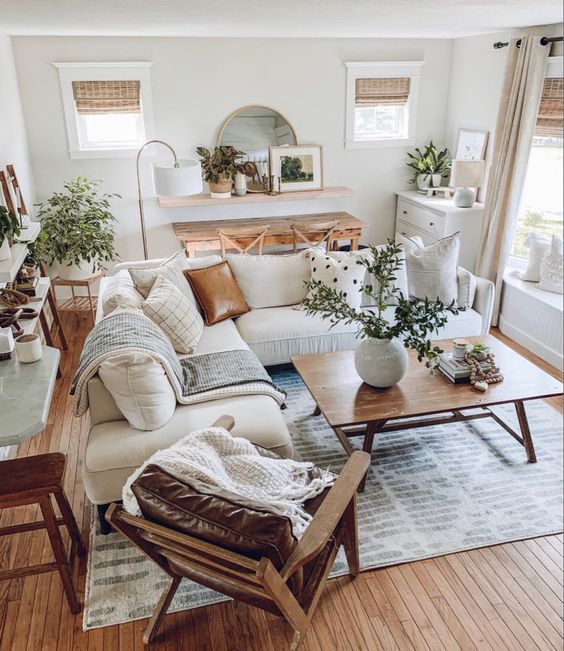 Whether your living room features a tray ceiling, built-in shelves or a mantle, the right lighting can enhance the ambiance. A recessed light upgrade is one of the most affordable and easy ways to improve your room's brightness. Layered lighting is a must when it comes to modern living rooms, as overhead fixtures tend to overstimulate a room. You can also add a sleek floor lamp behind the sofa or on a console shelf for additional illumination. Browse west elm's selection of lamps, sconces and fixtures to illuminate your home with modern style. To find the right pieces for your space, speak with a personal stylist. We are happy to receive guest post submissions from you.