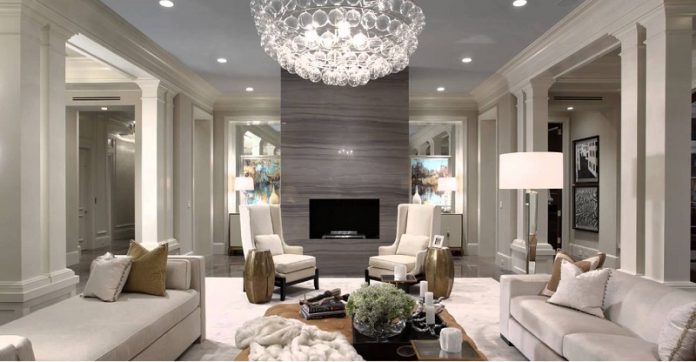 Mencoret.com – Hollywood Glam has become a popular decorating style in homes in Los Angeles and New York. This is because the glam of Hollywood stars has reached all ages and demographics. With the style, home owners try to achieve the look and atmosphere of their favorite Hollywood stars. But creating that glamorous Hollywood look doesn't mean only putting a lot of money on the decorative items. In fact, a well-planned and affordable living room design can also be done using only Hollywood glam supplies.
Hollywood Glam Living Room Designs
To make an authentic Hollywood glam living room, select pieces of furniture that have bold, sparkly crystal chandeliers, big large mirrors, bold artwork pieces and heavy textured fabrics on them. The artwork pieces should reflect sunlight in the room and the big mirror adds the glamorous shimmering effect. Large louvered doors with open spaces may also be added to the living area to make it feel as if you are in the movie star's world. Large floor to ceiling shelves should be installed so that your magazines, DVDs and books will be easily accessible. Glass coffee tables, bookshelves and side chairs with plush cushions may also be used.
In order to achieve the Hollywood glam look in your living room, you must use light colors and furniture pieces with unique shapes and interesting designs. Dark stained wood and metal furniture pieces are out of the question, as they will only cast a gloom on the entire room. If you really want to do something interesting, then you can use funky art pieces or mirrors in Hollywood glam living room designs.
Tips for a More Luxurious Living Room
You may even think of adding a small Hollywood glam living room mirror in your bedroom as well. This will definitely add some fun and drama into the place. You can find a lot of these mirrors in the furniture stores but if you want something unique and contemporary then you should go for those mirrors that are handcrafted. You will have a great piece of art work in your bedroom that is sure to grab the attention of every person who sees it.
The fabrics like silk, velvet and satin are very popular in Hollywood glam living room furniture design because of their luxurious feel and exquisite appearance. They reflect light in such a way that they add a certain charm to the place. You can also use fabrics like Jacquard and velvet for accents. A glass vase full of flowers and green plants will also look wonderful in the Hollywood glam look. You may even use some very delicate fabrics like silks and brocade to hang the China collections in the Hollywood glam look. Your collection will have that excessive shine without looking over the top.
How to Decorate With Hollywood Glamor
In order to maintain the glitter and shine in your living room without overdoing it, you should choose your interior designs carefully. You cannot just go for any old style and motif because it will not only destroy the entire feel of the place but you will also be wasting your money. If you have gone in for modern furnishings then you should use it only in small portions and then give it time to give your interior a glamour boost. Remember that in order to achieve a proper glow in your living area you need to avoid going for extremely shiny materials like vinyl. Such decor will make the room look too clean and tidy but it will not give you that excessive shine that you desire.
The lighting in Hollywood glam living room is also important and you should always use it in a proper manner. The throw pillows and curtains in the living room are mostly seen as decorative items but they have to be used in an appropriate fashion. You should choose throw pillows and curtains that will give you an excessive shine without making the atmosphere dull. You can easily get them in different colours but try to keep them simple at the same time.
Other than the throw pillows and curtains, the most important pieces of Hollywood glam room decoration are the mirrors and lamp stands. You will be amazed to see the difference these two pieces will make to your place. When you go for the wall hangings and other pieces of decor, you should always try to match them with the pieces that you already have in your place. So, by keeping all these points in mind you can decorate your Hollywood home in Hollywood glamour.