Mencoret.com – If you have a small bathroom or powder room, you'll want a vanity that maximizes space without feeling cramped. Look for one that has a mix of closed-door storage and open shelves to accommodate towels, toiletries, beauty products, and art.
The Perfect Choice for Small Bathrooms
A light-color freestanding cabinet with mirrored doors is a classic choice that will bounce light around the room to visually expand it. You can also add extra storage by using a lower shelf. If you're trying to fit a small modern bathroom vanity design into your space, then it's a good idea to consider wall-hung units. These are the perfect choice for small bathrooms because they won't cram the room full of clutter, and they can help your space look bigger by exposing the flooring below.
Keep your everyday essentials close at hand by adding a slatted open shelf to your wall-hung vanity. The shelving provides a light and airy feel to your bathroom, while also allowing you to stash towels or other decorative items. Don't underestimate the power of a decorative basket. They can be a simple solution to a lack of linen storage in a narrow bathroom. Stick rolled bath and hand towels in cute baskets below your vanity, and you'll have a stylish and functional place to store your toilet paper and other supplies.
Bathroom vanity ideas for small spaces often involve the use of counter-mounted units. These vanities have a sleek design and can offer ample storage space for toiletries and other items. They also make it easy to organize your bathroom. These units come in many different styles and designs, so you can find the perfect option for your space.
Modern Small Bathroom Vanity Design
They can be paired with a pedestal sink to create an elegant look. They can also be positioned in different ways to add visual interest and enhance storage. A floating unit is a popular choice for small modern bathroom vanity designs because it takes up less floor space than a standard wall-hung vanity. A floating vanity design also allows you to see the flooring underneath – this helps make the room feel larger and adds light to the area.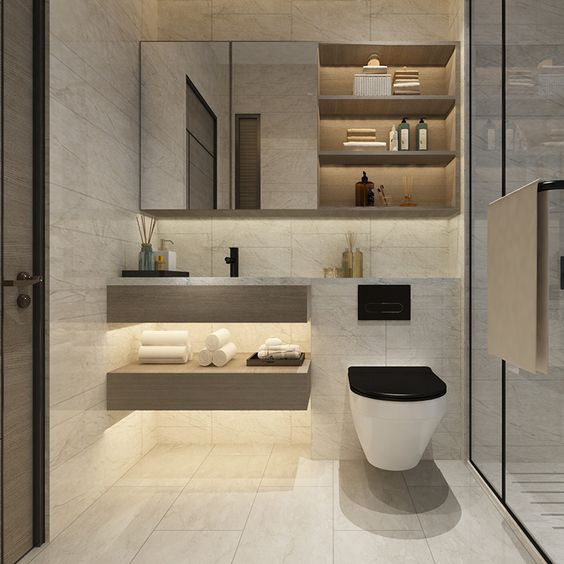 Floating units can be mounted on a wall or freestanding, and both types are available in different sizes and finishes to suit your needs and budget. They can be used for a variety of spaces, including powder rooms and smaller bathrooms, and are an excellent option for homeowners who want to age in place. Storage is one of the most important considerations when choosing a bathroom vanity. It's essential to consider whether you want your unit to be a hidden storage solution, or if it should be a design feature that's easy to see and access.
Opt for a Cabinet-Style Design with a Natural Look
If your small bathroom doesn't have much room for a large vanity, you may want to opt for a cabinet-style design instead. These usually feature drawers and open spaces that can be used to house toiletries, towels, and other items. For a rustic and natural look, consider incorporating cabinets made of natural wood into your bathroom design. They can provide a beautiful contrast to white shower tile, countertop, and marble flooring.
To create a classic feel in a modern space, look for bathroom vanity cabinets that have legs, trim work, and molding. These can be paired with a classic mirror and other vintage-inspired plumbing fixtures for a traditional look. A streamlined wall-mounted unit is another great option for small bathrooms. The vanity appears to float above the floor, which opens up the room and makes it seem larger.