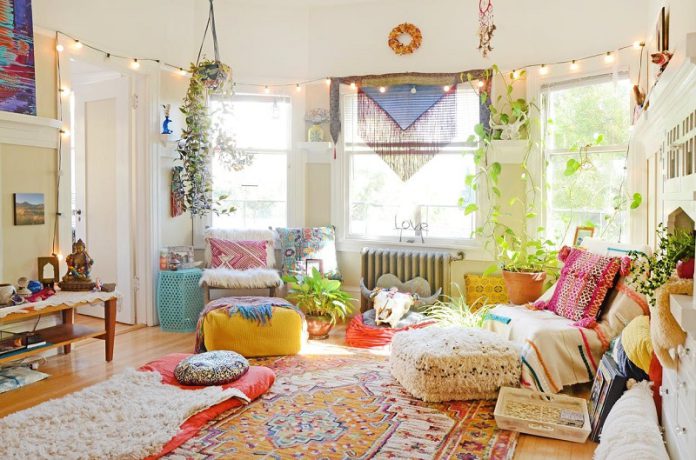 Mencoret.com – What exactly is Bohemian Interior Design anyway? To achieve that appearance would appear as easy as just throwing down some fluffy pillows, putting up a funky-looking couch, and covering it in an excessive amount of throw pillows. However, that is not the entire extent of Bohemian interior design. Just like the name implies, the aim is to create an atmosphere that is loose and fun without letting it get too over the top.
Bohemian Interior Design Style
Interior designers who work within the Bohemian interior design style use a combination of materials and colors to create interesting, quirky, and sometimes even eccentric designs. Often the pieces used are made from recycled products, such as pieces of metal as well as wood. However, there are also quite a few items that are made from unique or unusual-looking materials, such as shells, stones, metal decorations, and even gears and nails.
The pieces that are found in Bohemian living room designs are often eccentric and unconventional. They may be pieces of art or odd pieces of furniture that have been inspired by different sources around the world. They are extremely creative and may also incorporate the use of fabrics and other materials which would normally be out of place in their homes. In fact, the decor may consist of very little clutter at all and the entire area may seem to be filled with air of playfulness and spontaneity. This is why many people describe the Bohemian look as an 'irresistible' space.
Some of the more popular Bohemian interior decoration styles are influenced by vintage items, such as vases and candles made from antiques. There are also some pieces like furniture, which is created from metal, stone and ceramic that are found on Bohemian tables and counters. There are many other items like dishes, glasses, bottles and paintings which have a vintage appeal. These can also be placed in your home if you so wish. Another thing that can give your Bohemian living room a distinctive look is the presence of vintage accessories, such as an old, battered cork board, which is sitting proudly on the coffee table. Other great things that can be added to your space are rugs and pillows, which would definitely make every seat and table look great together.
Creating the Illusion of Infinite Space
Layering is another important aspect of Bohemian interiors, which is evident in both Bohemian prints and textures. Some designs would incorporate earth tones and layering of vibrant greens, blues and reds, which can combine with various pieces of furniture or textiles. Some other designers, however, incorporate heavy layering with fabrics in order to create the illusion of limitless space.
The Bohemian interior has recently gained a lot of media attention, as portrayed in films such as The Outsider, and also more traditionally, in popular television programs such as roommates. One of the most interesting aspects of this kind of lifestyle is the Bohemian lifestyles adopted by some of its members, who live their lives in complete contrast to the formal culture of their everyday lives. Their informal clothes, paired with unique, earthy accents like plant life and organic foods, make their place look as if it is out of the ordinary. This can make Bohemian interior designs look very appealing, as no two homes would ever look the same.
Tips to Unify the Bohemian Decor
In order to pull a Bohemian look all together, it is essential for you to work closely with a professional interior designer. You will need to go over the design concepts he presents with you, such as colors, textures, types of materials and the overall feel of the place. Once you agree on all these, you can start working on the specific details of the Bohemian decor, like how you would like your walls and furniture to look, for example. A great way to do this would be to create a draft sketch of your desired interior design, which you can share with your designer. If he agrees with you, then you can go ahead with the process.
To finish off your Bohemian interior designs, you can choose from a wide variety of accessories and accent pieces, which would enhance the style of your space. For example, you may consider a Bohemian rug that is in the rustic, western or Native American style. These rugs can go well with clean white walls, with Native American wall hangings, and with other Bohemian elements such as clay pots and drums. There are so many different options, which will allow you to design the Bohemian style of interior designs that you want. We really appreciate and welcome guest post submissions from you.