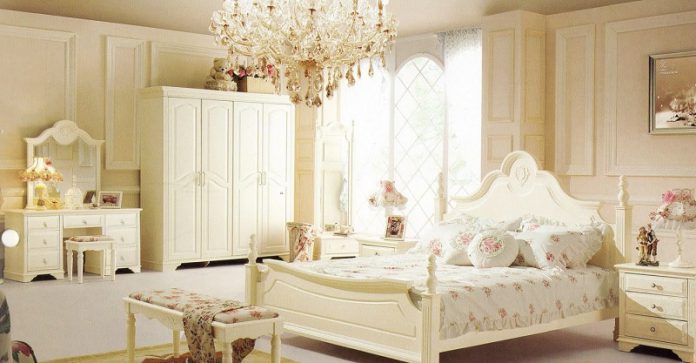 Mencoret.com – Creating a Vintage bedroom design can be both fun and challenging. When you think of the word "vintage," many people instantly imagine dressers, lamps and old-timey decor. While that is a very common look, there are other looks you can create by selecting the right colors and fixtures. Here are a few easy ways to create a vintage look that will have your guests talking about it for years.
Vintage Bed with Decorative Carving
Vintage beds are an excellent choice for creating a vintage look. These large beds often feature art Deco frames or art reproductions. A headboard set featuring a floral print on a vintage brass bed can add a unique flair. Or choose a metal frame with decorative carved accents for a bold statement.
Vintage furniture also adds an air of mystery and nostalgia. Vintage pieces are often designed with the utmost care. They are made from solid wood and covered in glass to help protect them from the elements. Look for wood that is aged and weathered to bring out the unique character of the piece.
Don't forget the window treatments! They should be simple, yet still be elegant. Use dark drapes to maintain the structure of the room while giving off a sense of intrigue. If you want to create a more romantic setting, choose lace or tapestries to line the windows. You could also hang a French lace valance along one wall for that added touch of romance.
Tips for Choosing the Right Furniture
Choosing the right pieces of furniture can be tricky. First, determine what mood you want to create. Are you seeking elegance? A vintage feel might be achieved with an iron bed, lace upholstered duvet and vintage-looking headboards. If you want a more casual vibe, try a solid oak furniture set with open collars. Your eye will be drawn to these pieces when they are placed in the appropriate locations.
Next, decide what types of vintage pieces you will need. You may prefer an old-fashioned vanity or dresser. Or maybe a reproduction chair with a beautiful fabric or rug. You can even find a gorgeous wooden chest to put on your shelf, complete with an intricate mirror.
Finally, take a look at the wall hangings. Antiques are particularly beautiful in their worn fabrics and faded colors. Try finding art Deco wall hangings or old world sconces. If you don't want to put your furniture in an antique theme, think about a French country or shabby chic style. There are plenty of options to choose from and it's definitely worth taking some time to find just the right pieces.
Decorating a Simple Vintage Bedroom Style
You don't have to go all out on this vintage bedroom style. In fact, you can keep things very simple. If you are decorating a bedroom for a child, keep the furniture very colorful. On the other hand, if you're decorating a woman's bedroom, keep the design as tasteful as possible.
Look for vintage accessories. The walls can be painted a very pale pink or blue, depending on which era you're trying to recreate. Try using old buttons, beads, brooches, velvet, and chenille. If you want to add a dash of femininity to the room, make sure to use red velvet or a similar bright red color.
Add a few vintage touches to your bed. Consider placing a vintage quilt between two pillows. Quilted comforters work well, too, but you can create a one of a kind look by using old washcloths on your bed frame. A vintage footstool or two will also add something unique to the room.
Adding Furniture to Make It Look Beautiful
If you don't have a lot of room in your bedroom for anything other than a bed and a nightstand, you can create a reading nook by using a wooden desk. Don't be afraid to add a little furniture that adds personality to the room. If there is an unused vanity in your bedroom, use it as a day table or a place to store your cosmetics. If you need to hide your electric mattress warmer or your canopy bed from view, hunch up the canopy to create a low ceiling that will keep the eyes of all who enter the room below you focused.
Don't be afraid to mix and match different elements. Vintage bedrooms can feel very austere if they're all very traditional or very feminine if they're decorated with vintage elements. Use your imagination to think of different ways to combine elements in your vintage bedroom style. You may even find that you've discovered a color combination or a texture that you never knew existed! Your vintage bedroom style may just surprise you!