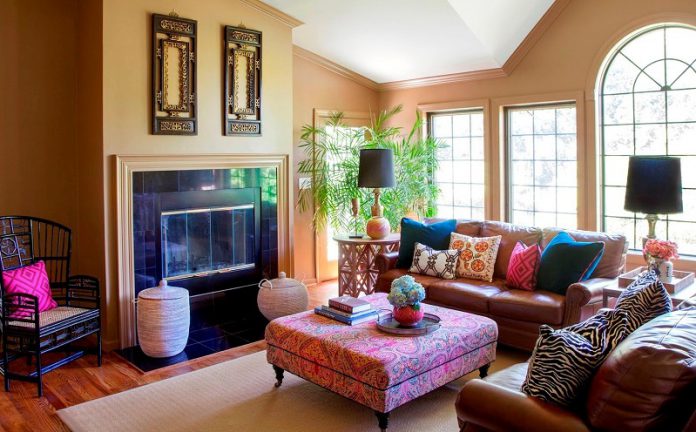 Mencoret.com – A Bohemian family room can be anything that you want it to be. It is about incorporating all the individual and unique styles from around the world into a single space. Bohemian design has been growing in popularity for several years, so now is a great time to add some of these unique touches to your home. There are many different Bohemian decorating themes that are popular. This article will introduce you to some of these wonderful ideas.
Bohemian Family Room Decoration Ideas
One unusual but very charming Bohemian decorating idea is to create a dining area that has a very earthy feel with a lot of wooden pieces and exposed wood. Rustic tables and large wooden chairs are a nice touch, as are animal hide tablecloths and pillows. This will create a very inviting environment for your family and guests to enjoy. Bohemian design is all about the pom-pom accents on the walls. A few Bohemian flea market finds that you can incorporate into the mix will add even more charm.
If you like to throw parties and get togethers, then a Bohemian bar and seating area is just what you need. You can put out the karaoke equipment, the drink and food containers, and anything else you think is appropriate for an unconventional gathering place. Add colorful cushions and perhaps a decorative stool or two to make the seating area more comfortable and inviting. In addition, don't be afraid to mix traditional furniture and Bohemian furniture. For instance, by putting a few matching chairs with a lot of fabric on the back and front room, you can create a very inviting lounge type atmosphere.
Different Kinds Of Bohemian Furniture Decoration
There are many different types of Bohemian furnishings that you can use, such as wood, Native American, art Deco, even zebra print. You can select furniture based on themes such as teddy bear designs, Indian blankets, butterflies, Bohemian animals, etc. Also, you can purchase Bohemian throws, pillows, lamps, and other items in interesting shapes, colors, and prints to use as a decoration. In addition to the decorative items, you can also incorporate many Bohemian accessories, such as Native American jewelry, leather, Native American pottery, Bohemian paintings, rustic wall art, and many more.
As you research the different styles of Bohemian furniture and decor, you may be surprised to find out that some of the most common items include geometric shapes, nature scenes, birds and animals, and patterned fabrics. These factors and others will contribute to making your furniture and accents colorful and unique. However, before you buy any specific type of Bohemian furniture or accent, you need to decide on what interior design theme you want for your home.
Popular Interior Design Themes
The most popular interior design themes for Bohemian furniture and decor are western, country, cottage, southwestern, African, punk, and Gothic. Regardless of the specific Bohemian theme you select, there is a wide range of seating options available for your family room. Seating options range from rustic benches to elaborate sofas and loveseats. When looking at the different seating options, you should also consider how much additional seating will be needed and how much floor space you have available. This will help you determine which pieces of furniture will fit with your Bohemian theme.
For additional seating, you will definitely want to add beanbags, love seats, loveseats, chairs, and ottomans. Beanbags and love seats are perfect places for your family to gather and have fun. Couches and ottomans are great places to read, meditate, or have romantic evenings. When selecting seating for your Bohemian living room, it is important to consider the amount of extra seating and floor space you will need. There are many great pieces of Bohemian furniture that can double as additional seating such as sofa sets, loveseats, chairs, loveseats, end tables, coffee tables, side tables, and storage for toys, CDs, DVDs, and other belongings.
The type of furniture you choose to decorate your Bohemian room with will depend on your individual taste and your lifestyle. If you want a very comfortable atmosphere, you may want to opt for pieces that offer a deep and comfortable seating area, as well as comfortable upholstery and accent pillows. Or, you may prefer a more laid back and casual atmosphere and choose furniture that offers modern styles, bold colors, and unique fabrics. No matter what kind of vibe you are looking for, it is easy to find the perfect items to accent your Bohemian lifestyle.