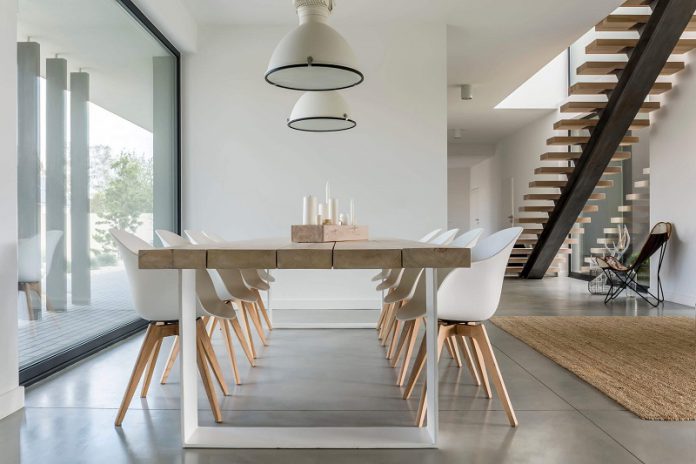 Mencoret.com – Decorating a minimalist dining room can be a challenge. The concept is simple, yet it can seem very complex at times. The first thing to consider is the color scheme. Then you'll have to decide on the accessories, the wall colors, and finally the dining furniture. Here are some tips to keep in mind when decorating a minimalist dining room.
Select Neutral Colors
Select Neutral Colors – selecting everything in cool, neutral tones is an excellent way to put the foundation for a minimalist dining room decor. This neutral palette has to apply to the entire room s: Window shades, wallpaper, and floor coverings. Dining room furniture such as table and chairs should also be in a neutral color. Color choices are an important factor in making a minimalist design.
This is really about learning to match colors and textures. The goal is to create a "box" where the eye enters but does not get lost on the rest of the space. For example, one might consider a pale blue table and chairs because that would be a more minimalist dining room table and chairs than a black and white, metallic-looking table and chairs. Although that may be the most simplistic approach, it still allows for some texture where needed such as the chairs.
Using Subtle Minimalist Textures
Minimalist Textures – creating smooth, seamless surfaces is one of the minimalist dining room design essentials. There are several ways to do this and it all comes down to creating textures using various natural materials. One popular choice is to use light and/or dark wood or even fabric. Textures can also come in the form of glass, ceramic tiles, metal, etc. The idea is to create a sense of space without being too cluttered. A well-planned minimalist interior design should have clean lines and minimal clutter.
Using neutral colors is often considered an "inclined" approach to minimalism. However, by using these neutral colors in the right places and for the right purposes, minimalism can become very fashionable. One place to look for neutral colors is in textiles and linens such as pillow covers and throw pillows. Another place to look is in curtains and other fabrics. By using these simple yet stylish accent pieces, you can pull off a minimalist dining room design.
Layered Lighting Benefits
Layered Lighting – using multiple light fixtures on your table and around the room is another way to create a minimalist dining room design. Using only a few lights on the ceiling and table can create a minimalist look that is inviting and relaxing. Multiple light fixtures on the floor and wall can create a warm and comforting atmosphere. You don't have to go all out on this minimalist look by laying out huge chandeliers and expensive chandelier lamps; subtle lighting will do just as well.
Unattached Chairs – while the goal of creating minimalist dining rooms is to keep the focus on food, it doesn't mean that you have to stay away from chairs! Chairs that are attached to tables or walls can actually be used to great advantage. While dining in a chair with no cushions can feel a bit uncomfortable, it will give your guests the opportunity to get a better view of the food. If you're going with a more traditional or formal dining experience, attaching a traditional chair to the wall can also help make the space feel more like a restaurant than a dining room.
Here's some more design essentials for a minimalist dining room. Wall storage is a must and can add a lot of storage space to a room as well as being a beautiful and functional accent piece. This can come in the form of traditional wooden racks or modern and simple wire storage boxes. A great way to find unique and interesting wall racks is by shopping at a thrift store, flea market, or garage sale. Cheap and ugly things often get a lot of attention at these sales and are perfect for adding variety to your minimalist dining room design.